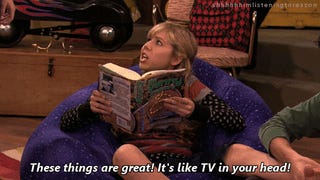 Sometimes you just want to curl up with an E-reader and bask in the warm glow of words pouring over you like freshly milked cream from a warm udder -splashing over your dewy skin and puddling like cloudy swans dipping their down in the liquid dreams.
Sorry about that introduction.
They are doing some wood varnishing in my office today and I think the fumes are getting to me. I'll be fine, as soon as all these purple dragons stop playing bluegrass on my desk. Ricky Skaggs, is that you??
Anyhoo, while I'm still kinda cogent, here is the weekly roundup of all those delicious stories from last week. Remember, there'll be a new roll call on Thursday, so get a-typin'!
We have a nice, tidy round up of tales that spans dimensions, wars and appliances:
Myseri gives us more of what we want as the tides of war wash over the beaches of the state. The "death" toll rises in the camp when the Pennyman pays a visit to the soldiers of the massing army.
Pitchblende delivers a slice of bucolic splendor as a grandfather and his son reflect on the current situation they are in. A galaflarge has to do what a galaflarge has to do!
Wenchette sets the scene with a sudsy bath! Well, it's not that sudsy and more of a face washing, but still… Also, I now want biscuits. We still have a few chapters to go to get to the smut!!
Kalaeth shows us what happens when a smart-house gets personal. Home, sweet home?