Space Fogeys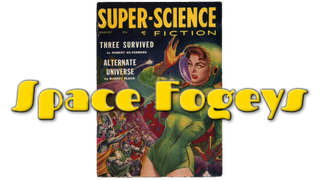 Space Fogeys
boilerplate test. testing. test. test. comment on the maintenance post if you see this.
[Since I'm currently drawing a blank re: single authors to concentrate on, this post is just going to be a capsule view of various older works I think you might enjoy. - BI]


A Case of Conscience (1958)

James Blish is probably best known for his "Cities in Flight" (or "Okie") novels, and his Bantam Books series of ST:TOS adaptations (including the first-ever Star Trek original novel, Spock Must Die!). But he also wrote a Hugo-Award-winning novel that was one of the very first in the genre to tackle religious themes seriously.
A Case of Conscience was the first work in a very loose series referred to as the "After Such Knowledge" trilogy (from a line in T.S. Eliot's poem "Gerontion": "After such knowledge, what forgiveness?"). The "series" also includes a historical novel about philosopher Roger Bacon and a two-volume dark fantasy, but they can be read in any order and are complete works in themselves. They all explore a problem in theology I admit had never even occurred to me: can the pursuit of secular knowledge be considered a "sin" itself?
Father Ramon Ruiz-Sanchez is a Jesuit priest and biologist member of a planetary exploration expedition who make first contact with an alien race. The Lithians are a highly advanced reptilian species who appear exemplary in every way. Their society is moral in a manner humans can only aspire to. Yet they are a coldly logical race who have never even developed a concept of God, and this troubles him greatly. A fascinating and thoughtful read that still has some surprising moments of action.
---
All Heads Turn When the Hunt Goes By (1977)

Yeah, by John Farris, the guy who wrote The Fury. But forget that, this is a much better (and much scarier!) novel.
From the very first scene (a traditional military wedding that goes wrong in probably the worst way you could possibly imagine), this book grips you and never lets go. It's about two families (one antebellum Southern, one British) and their shared generational curse. A curse with its roots in Africa and the practice of voudon, and I can't say anything more without giving too much away. Also (if you couldn't guess by the cover image I chose), parts of the book are horribly sexy, or perhaps sexily horrible.

If you like horror, I think you'll like this book, is what I'm saying. Read it!
---
Tau Zero (1970)

Poul Anderson wrote the fantasy novel Three Hearts and Three Lions, the stories of the Time Patrol, and the Nicholas van Rijn and Dominic Flandry novels. But he also exploded my young brain with this hard SF classic exploring (among other things) the relativistic effects of constant acceleration.
A colony ship from Earth is equipped with a Bussard ramjet, allowing their total experienced trip time to be a mere five years instead of over 30, due to time dilation. But their drive is damaged en route: they can't repair it without decelerating, and they can't decelerate without repairing it. They decide to continue accelerating on a course that will take them outside the galaxy itself, where the density of interstellar hydrogen will hopefully be low enough to affect repairs without danger. By the time they realize this isn't going to work, the entire history of the human species has probably come and gone. It only gets worse from there.
Parts of the book no longer line up with current theories of cosmology, but it's still a tense and totally engrossing read. Highly recommended!
Sadly, Amazon doesn't appear to have a Kindle edition, but the book's available in used paperback and Audible formats.
---
...and I believe I'll stop with lucky number 3. Finding lesser-known works that are still commercially available has proven to be a bit harder than I thought! Hope some of these pique your interest, and you can consider a sequel or three to be a definite threa—I mean possibility! ;)